Positive Training for Positive Results
Our Trainer Heather Anderson has professionally trained dogs since 2006. She specializes in force-free & behavioral science-based methods that provide consistent results. She has worked with thousands of dogs and believes that every dog has the potential to excel. By focusing on what your dog is doing right and improving communication, we know you can build stronger relationships with your dog.
General Training Information
We offer three group training options: Puppy, Beginner, and Advanced. Group classes are one session per week, 5 weeks in a row. Each session is one hour long. The cost is $115.00 for the five weeks. Owners are required to attend - children are welcome! All pets must have age-appropriate vaccines. Preregistration is required - call the store or register online to reserve a space. REFUNDS OR EXCHANGES ARE NOT AVAILABLE FOR TRAINING. YOU MAY POSTPONE UP TO ONE SESSION IF THERE IS AN EMERGENCY. Make up classes are not offered, so try to send a proxy if you need to miss a week.
Call 612-879-0709 to speak to an employee or email Heather at prodigy.dog@gmail.com for more information.

Puppy Class
This class is for dogs 6 months and under. You and your dog will focus on socialization, learning basic commands and getting answers for common behavioral questions. This class is taught in a positive way and will help you feel more confident as a puppy leader.

Beginner Class
This class is for dogs 6 months and over that have not been through a basic level class. You and your dog can expect to learn basic commands, get answers on common behavioral questions and address the specific needs of teen-aged dogs. This class is taught in a positive way and will help you feel more calm and confident when leading your adult dog.

Advanced Class
This class is the second level in the series. A basic skill level is required. You will learn heel, and build on several other skills with intense distractions and distances. It is a fun & fast paced class with lots of games and time to practice.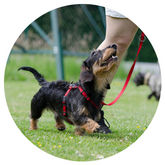 Private Sessions
If the group classes don't sound like the right fit, Heather offers 1 hour private training sessions where she can meet you, in your home, at the dog park, or wherever your dog needs the most guidance. Please contact Heather directly to set up a private training session and inquire about pricing. 651-403-0507 or email prodigy.dog@gmail.com
Come visit our pet supply store in Minneapolis, MN specializing in quality food, treats, and supplies for cats and dogs.